"A Night With No Morning" 「朝が来ない夜 Asa ga Konai Yoru」 is the 29th volume of Yūki Tabata's Black Clover.
Summary
"Having finally mastered Unite, Asta must head to the Spade Kingdom to help his friends. But he's gonna need some help getting there. And will he be ready for the devilish terrors that await him...?"
Author's Note
"Phew... Hello, Amélie here. This kid is seriously bad news. The only time she behaves is when she's asleep. I swear, you would not believe how she rampages around. There's just no way to deal with her. She only gets away with it because she's cute. Lady and Old Guy, do something about her, would you?! Huh? You say I was like that too, way back when? Oh, puhleese! Don't lump me in with this destructo-demon!"
List of Chapters
Extra Pages
Character Profile: Morgen Faust
Sketch for Makusa North
Another six transformations for Charmy Pappitson: Arabian Charmy, Hula Girl Charmy, Hollander Charmy, British Guard Charmy, African Charmy, and Inuit Charmy
Collectible Card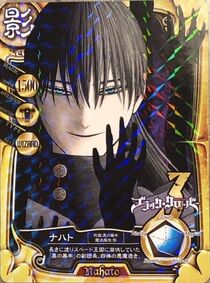 Nacht
The Black Bull vice-captain, he spent a long time concealed in the Spade Kingdom and is the host of four devils.

Magic Attribute: Shadow Magic
Magic: 1500
Affiliation: Black Bull
Type: Wizard

Leaves: 3
Power: 4/5
Magical: 5/5
Wisdom: 5/5
Stamina: 3/5
Vitality: 4/5