Jurassic World: Dominion Dominates Fandom Wikis - The Loop
Play Sound
"The Battle Begins" 「開戦 Kaisen」 is the 28th volume of Yūki Tabata's Black Clover.
Summary
"It's the Dark Triad vs. the Resistance as the battle for the Spade Kingdom begins! To win it's going to take the Clover Kingdom's best—and for Asta and Yuno to surpass their limits like never before!"
Author's Note
"My wife's friend made our daughter a Nero costume and mailed it to us. Argh, it's criminally cute! My daughter's a year old now. She's started calling me 'Daddy,' and every time she does it, my happiness spikes. However, since I've called my wife by her nickname too much, my daughter has started calling her 'Chaa-chan'... She calls our dog Amélie 'A-chan.'"
List of Chapters
Extra Pages
Character Profiles: Moris Libardirt and Kaiser Granvorka
Concept Art sketches for Dorothy's and Kaiser's post-timeskip designs
Assorted Questions Brigade
"The Happy Prince" was a favorite story of Tabata's ever since he was a child, so he modeled Lemiel and Secre after the prince and the swallow from the story.

Collectible Card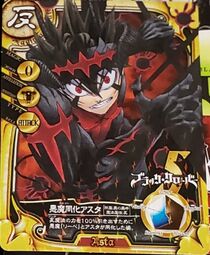 Unite Asta
The assimilation of the devil Liebe and Asta, this figure brings out 100% of the Anti Magic power.

Magic Attribute: Anti Magic
Magic: 0
Affiliation: Black Bull
Type: Attack

Leaves: 5
Power: 5/5
Magical: 0/5
Wisdom: 3/5
Stamina: 5/5
Vitality: 5/5