"As Pitch Black as It Gets" 「真っ黒けっけ Makkuroke kke」 is the 23rd volume of Yūki Tabata's Black Clover.
Summary
"With the devil finally defeated, the Magic Knights are working hard to rebuild the damage done to the Clover Kingdom. Unfortunately for Asta, all the blame is being pinned on him and he's set to be executed. He's in the most trouble he's ever been in, but you never count out a Black Bull!"
Author's Note
List of Chapters
Extra Pages
Character Profiles: Damnatio Kira, Gadjah, and Lolopechka
Collectible Card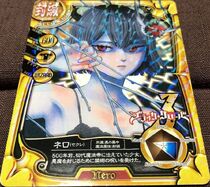 Nero (Secre)
A girl who served the First Magic Emperor 500 years ago, she was cursed for using Forbidden Magic to seal the devil.

Magic Attribute: Sealing Magic
Magic: 600
Affiliation: Black Bull
Type: Wizard

Leaves: 3
Power: 2/5
Magical: 4/5
Wisdom: 5/5
Stamina: 2/5
Vitality: 3/5
Community content is available under
CC-BY-SA
unless otherwise noted.