Doctor Strange in The Multiverse o Madness - The Loop
Play Sound
"Dawn" 「夜明け Yoake」 is the 22nd volume of Yūki Tabata's Black Clover.
Summary
"With the help of the first Magic Emperor and the leader of the elves, Asta and Yuno now might have a chance against the devil's unlimited power. But in order to put an end to this long battle, the two young mages will have to show strength that they've never shown before!"
Author's Note
"My wife had a baby!!! To think I'd actually get to be a dad! I'm hugely grateful to my wife working so hard, and to my daughter for being born!!!"
List of Chapters
Extra Pages
Character Profiles: Licht, Vetto, and Fana
Another six transformations for Charmy Pappitson: Cowgirl Charmy, Native American Charmy, Matador Charmy, Mexican Charmy, Chinese Charmy, and Indian Charmy
Collectible Cards
Lemiel
The legendary First Magic Emperor who saved the kingdom from the demon which threatened to destroy humanity 500 years ago.

Magic Attribute: Light Magic
Magic: 2000
Affiliation: Magic Emperor
Type: Wizard

Leaves: 4
Power: 5/5
Magical: 5/5
Wisdom: 5/5
Stamina: 5/5
Vitality: 5/5
---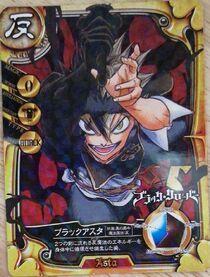 Black Asta
The figure created by circulating the Anti Magic energy that flows from the two swords throughout his body.

Magic Attribute: Anti Magic
Magic: 0
Affiliation: Black Bull
Type: Attack

Leaves: 5
Power: 5/5
Magical: 0/5
Wisdom: 1/5
Stamina: 5/5
Vitality: 5/5
---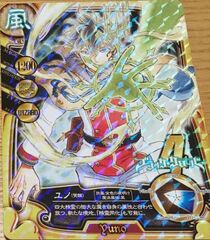 Yuno (Awakened)
By unleashing the huge mana of one of the Four Great Spirits together with his magic attribute, a new state, "Spirit Assimilation", is possible.

Magic Attribute: Wind Magic
Magic: 1200
Affiliation: Golden Dawn
Type: Wizard

Leaves: 4
Power: 2/5
Magical: 5/5
Wisdom: 5/5
Stamina: 2/5
Vitality: 3/5