"The Truth of 500 Years" 「500年の真実 500-nen no Shinjitsu」 is the 21st volume of Yūki Tabata's Black Clover.
Summary
"With Asta and Yuno now in the Shadow Palace, the time has finally come to settle the grudge with the elves that has lasted hundreds of years. However, when the true dark force behind everything makes his appearance, the entire direction of the battle will shift dramatically!"
Author's Note
"I love the Moomins, so I made an impulse buy. I especially like the Groke."
List of Chapters
Extra Pages
Character Profiles: Lemiel Silvamillion Clover and Secre Swallowtail
Concept Art sketches for Lemiel, Secre, and Licht's monstrous transformation
The Assorted Questions Brigade No.1
The Assorted Questions Brigade No.2
The Assorted Questions Brigade No.3
Collectible Card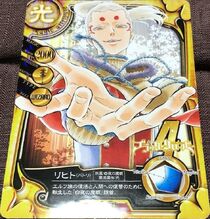 Licht (Patolli)
The boss of the "Eye of the Midnight Sun" who was reincarnated for the revival of the elves and the revenge on humans.

Magic Attribute: Light Magic
Magic: 2000
Affiliation: Eye of the Midnight Sun
Type: Wizard

Leaves: 4
Power: 4/5
Magical: 5/5
Wisdom: 5/5
Stamina: 4/5
Vitality: 5/5