"Siblings" 「きょうだい Kyōdai」 is the 19th volume of Yūki Tabata's Black Clover.
Summary
"With Langris and the other elves from the Golden Dawn assembling in the royal palace, it will be up to Yami and Finral to stop them. And as the battle rages on, Noelle will need to get over her trauma if she hopes to protect those who are precious to her!"
Author's Note
"Since I'm always just sitting around, I can feel my body atrophying by the day.

But I promised my wife that we'd live to 130, so I will live to 130!!!"
List of Chapters
Extra Pages
Illustrations from Yumiya Tashiro and Setta Kobayashi
Character Profiles:
Nebra Silva
and
Finesse Calmreich
Collectible Card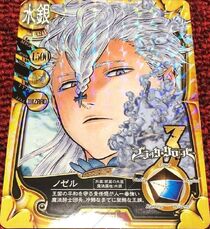 Nozel
The Magic Knight captain with a strong sense of duty to protect the kingdom's peace, he is a cold-hearted and strict royal.

Magic Attribute: Mercury Magic
Magic: 1500
Affiliation: Silver Eagle
Type: Wizard

Leaves: 3
Power: 2/5
Magical: 5/5
Wisdom: 4/5
Stamina: 3/5
Vitality: 4/5
Community content is available under
CC-BY-SA
unless otherwise noted.