"The Victors" 「勝者 Shōsha」 is the 15th volume of Yūki Tabata's Black Clover.
Summary
"As the Royal Knights Selection Exam enters its final stage, a surprising team is still in contention! Can Asta or Yuno take the crown? And after the test is over, the real battle begins when the members of the Royal Knights are decided! What will be their first mission...?"
Author's Note
"Hello, Amélie here. I was just thinking it was kinda chilly, and now something crazy happened outside. Everything turned white! Did you think something like that would be enough to make me hesitate? I couldn't care less! Chaaaaaarge!! ...Wait a second, lady. This stuff is weirdly crunchy and I'm sinking! And it's cooooold! Let's go home. I'll jump on the old guy who's still in bed!!"
List of Chapters
Extra Pages
Character Profiles: Rill Boismortier, Zora Ideale, Rades Spirito, and Gordon Agrippa
Concept Art sketches of Grey
Collectible Card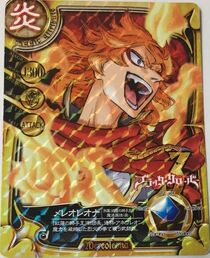 Mereoleona
The new Crimson Lion captain, known as "Anegoleon," she commands the squad with a fiery fist of condensed magic power.

Magic Attribute: Fire Magic
Magic: 1300
Affiliation: Crimson Lion
Type: Attack

Leaves: 3
Power: 5/5
Magical: 3/5
Wisdom: 2/5
Stamina: 2/5
Vitality: 5/5
Community content is available under
CC-BY-SA
unless otherwise noted.