Doctor Strange in The Multiverse o Madness - The Loop
Play Sound
"Royal Knights Selection Exam" 「王撰騎士団選抜試験 Roiyaru Naitsu Senbatsu Shiken」 is the 13th volume of Yūki Tabata's Black Clover.
Summary
"Asta and Yuno enter the fierce competition to choose members of a new elite squad called the Royal Knights. But with all the strongest mages of the Clover Kingdom as their rivals, do they even stand a chance?"
Author's Note
"A little while ago, when they held the character popularity poll, I got a Black Bull robe bouquet addressed to Luck. Incredible workmanship! That battle maniac is one lucky guy. Thank you so much!!"
List of Chapters
Extra Pages
Character Profiles: Solid Silva and Kirsch Vermillion
Results of the first popularity poll
Another six transformations for Charmy Pappitson: Christmas Tree Charmy, Ninja Charmy, Lion Dance Charmy, Foot Soldier Charmy, Samba Charmy, and Buddha Charmy (these designs were reused in Episode 77's Petit Clover)
The Assorted Questions Brigade No.1
Julius Novachrono made William Vangeance's mask himself, and William has continued wearing it and reinforced it with magic.
Yami Sukehiro wears a torn squad robe because it looks cooler that way.
The children who had their magic extracted by Baro have all fully recovered.
The Assorted Questions Brigade No.2
The Magic Knight Captains are ranked by their intelligence.
Characters are ranked, best and worst, on their ability to drink alcohol.
Collectible Card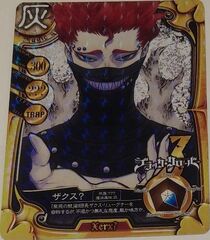 Xerx?
Claiming to be vice-captain of the Purple Orcas, Xerx Lugner, he is irreverent and rude to everyone, friend or foe.

Magic Attribute: Ash Magic
Magic: 300
Affiliation: ???
Type: Trap

Leaves: 3
Power: 2/5
Magical: 2/5
Wisdom: 4/5
Stamina: 2/5
Vitality: 2/5