"It's Nothing" 「何でも無い Nandemonai」 is the 11th volume of Yūki Tabata's Black Clover.
Summary
"Asta and friends find themselves facing off against both the Diamond Kingdom and the Eye of the Midnight Sun. Can they defeat both forces and save the Witches' Forest? Perhaps an old enemy will help turn the tide of the battle!"
Author's Note
"I got a Witches' Forest Golem doll from somebody involved in the production of the English edition of Black Clover! What high quality! Thank you very much!!"
List of Chapters
Extra Pages
Character Profiles: Fana and Ladros
Collectible Card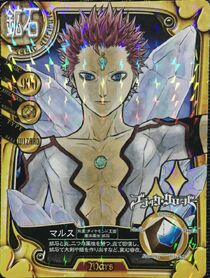 Mars
He has two attributes, mineral and fire. He recovers with fire and transforms minerals into swords and armor.

Magic Attribute: Crystal Magic
Magic: 900
Affiliation: Diamond Kingdom
Type: Wizard

Diamonds: 2
Power: 4/5
Magical: 5/5
Wisdom: 3/5
Stamina: 2/5
Vitality: 2/5