New Battle Prowess Layouts
I came up with new layouts for battle prowess sections.
Asta
Battle Prowess
Magic
Abilities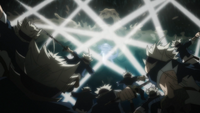 Expert Swordsmanship: Asta initially has a rough style due to having an unconventional sword and having only received basic training from Fanzell Kruger.[13][14] Over time he develops greater skill through battle experience, additional swords, and ki-sensing.[15]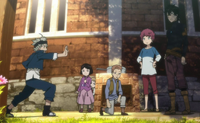 No Magic Power: Asta possesses no mana and so is unable to use magic.[16] This enables Asta to wield Anti Magic without suffering the weakening effects since he has no magic to drain.[17] This also makes him undetectable to mana-sensors,[18] and immune to the life-draining substance of the underworld.[19]
Enhanced Strength: Asta possesses a high level of physical strength, able to do a thousand single-handed handstand push-ups,[20] to swing heavy swords single-handedly,[21] and to punch holes in rock walls with no injury to himself.[22] Asta can swing his swords with such force that his opponents break stone when they crash.[23][24] The Witch Queen further enhances his arm strength using blood magic.
Enhanced Speed: Asta is capable of moving in an above-average speed, which causes William Vangeance to think that he has used magic to aid himself.[25]
Equipment