Tetia 「テティア」[1] was a human royal and Licht's wife.[2]
Appearance
She had long blonde hair and green eyes. She wore a dress with slippers.
Personality
Tetia was a cheerful person. She wished for a world where elves and humans could live together.
Biography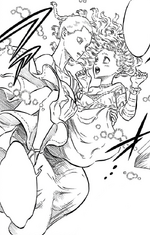 One day, while running away from the castle, Tetia was caught in a magical tornado. She was rescued by her brother and Licht, who caught her as she fell.[3] The three became friends, and Tetia and Lemiel continued to sneak out of the castle and meet with the elves.[4][5] Tetia and Licht conceived a child to help bring elves and humans together.[6]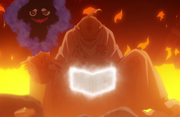 Months later, Tetia and Licht married in a ceremony kept secret from her family, but a devil told the royals about the wedding.[7] After the ceremony, the humans used a magic siphon and barrier to steal the elves' magic and then killed them all, including Tetia.[8] The betrayal and massacre caused Licht to despair and his grimoire to form a fifth leaf. He held Tetia's body as he activated a high-level Forbidden Magic spell and transformed himself into a giant demon.[9]
Battle Prowess
Magic
Wind Magic: Tetia used this magic to generate and manipulate wind.[10]
Equipment
Trivia
References