Doctor Strange in The Multiverse o Madness - The Loop
Play Sound
Tetia 「テティア」[1] was a human royal from the Clover Kingdom.[2] She was also the wife of Licht, the leader of the Elf Tribe,[3] and the younger sister of Lemiel Silvamillion Clover, the first Magic Emperor.[4]
Appearance
Tetia had long blonde hair and green eyes.
She wore a dress with slippers.
Personality
Tetia was a cheerful person who wished for a world where elves and humans could live together.
This goal, along with how Rhya hints the similarities she shares with Mimosa Vermillion, implies that Tetia was also extremely kind and would not discriminate against others despite being royalty.

Biography
One day, while running away from the castle, Tetia was caught in a magical tornado. She was rescued by her brother and Licht, who caught her as she fell.[5] The three became friends, and Tetia and Lemiel continued to sneak out of the castle and meet with the elves.[6][7] Tetia and Licht conceived twins and hoped to help bring elves and humans together.[8]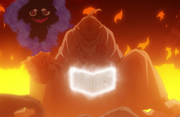 Months later, Tetia and Licht married in a ceremony kept secret from her family, but Zagred told the royals about the wedding.[9] After the ceremony, the humans used a magic siphon and barrier to steal the elves' magic and then killed them all. Tetia was fatally injured in the attack.[10] The betrayal and massacre caused Licht to despair and his grimoire to turn into a five-leaf clover grimoire. He held Tetia's body as he activated a high-level Forbidden Magic spell and transformed himself into a giant demon.[11]
While Lemiel fought the giant demon, Secre Swallowtail noticed that Tetia and one of the twins were still alive and used her Sealing Magic to close their wounds. Secre then left Tetia alone and went to help Lemiel. Tetia and the child survived, and their descendants lived on in Elysia.[12]

Battle Prowess
Magic
Equipment
Events
Trivia
References