Team I vs. Team J is the fifth fight of the Royal Knights Selection Exam.
Pre-Fight
When Nils Ragus and Ruben Chagar ask who X is, a strange Magic Knight starts laughing and reveals himself to be Rill Boismortier, captain of the Azure Deer squad. Other Magic Knights protest that a captain is competing; however, Julius Novachrono allows Rill to continue.[1]
Fight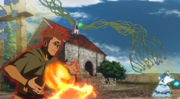 As the fifth match begins, Rill is quickly and easily ensnared in Roland's Plant Magic trap. Nix and Wainsley take advantage of the defenseless captain and, after being enhanced by Magic Pollen, they both release powerful spells. Seeing the spells, Rill is impressed and inspired.[2] The captain then counters both spells simultaneously with their counter elements.[3]
Meanwhile, Nils and Ruben destroy the crystal, winning the match for Team I.[4]
Post-Fight
Nils and Ruben then find Rill admiring and criticizing his artwork, and they have to drag him off the battlefield as the next match is about to begin.[5]
References
Community content is available under
CC-BY-SA
unless otherwise noted.