Cobra Kai Season 4 - The Loop
Play Sound
Spatial Magic 「空間魔法 Kūkan Mahō」 is a rare magic attribute that allows the user to manipulate the fabric of space.[1]
Description
This magic attribute allows the user to manipulate space at will. The user is able to use this magic without the need of a grimoire.[2] However, in order to use it to its full potential, specific spells are required, which are stored within grimoires.[3]
Most often, this magic takes the form of portals or doorways that connect two different locations.[1] Due to its near limitless reach, this magic attribute is usually used for transportation of teams and armies.[4][5] In battle, it can be used to return attacks back to an opponent, to move allies into advantageous positions,[6] and to warp enemies into the path of attacks or out of the battle entirely.[7][8]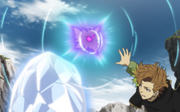 When two Spatial Magic spells clash, they explosively cancel each other out.[9] This is one of the few methods of countering offensive Spatial Magic, which carves through anything it touches.[10] Other counters include Anti Magic and spells that cut through the fabric of space.[11][12]
Spells
Offensive

Supplementary

Union
References