Security Golem 「警備用のゴーレム Keibi-yō no Gōremu」 is a magic tool that is used in the Witches' Forest.
Description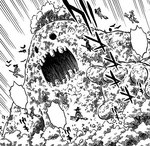 The security golems are small humanoid figures with short arms and legs. They have two black eyes, wavy black mouths, leaves on the top of their heads, and what appear to be patches of moss on their bodies.[1] The Witch Queen does possess a giant golem.[2]
They are equipped with sensors (located in their foreheads) to track intruders. After one has located any intruders, it will call to the other golems and swarm them. The golems can also fire blasts of mana from their mouths.[3] Dominante Code retools some to self-destruct in large explosions of mana.[4]
References
Community content is available under
CC-BY-SA
unless otherwise noted.