Jurassic World: Dominion Dominates Fandom Wikis - The Loop
Play Sound
Rune arrays 「魔言術式 Magon jutsu-shiki」[1] are specially designed sequences of runes that are utilized in some forms of magic.[2] Arrays are featured heavily in Trap Magic, Seal Magic, and some types of Forbidden Magic.
Description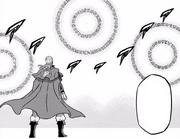 Rune arrays are sequences of runes and shapes that serve as instructions for the magic used to make them. They are often in an overall circular design, called magic circles 「魔方陣 mahōjin」.[3] The more complicated an array is, the more time it takes to draw.[4] Since mages draw these designs using their magic power, powerful and skilled mages are able to manifest arrays almost instantly, while weak mages require time to prepare the arrays in advance.[5] Once drawn, arrays can be placed in midair or onto another surface,[6] including a mage's body.[3][7]
Hastily or poorly drawn arrays risk failing or blowing up when activated.[8][9]
For most arrays, they disappear after a single use and have to be redrawn.[10] Certain magic tools have arrays as part of their function and design.[11][12] An array could also be physically carved into a surface, allowing for multiple reuses by mages.[13][14][15]
Studying mana and magic theory can help mages better understand the workings of magic and, in turn, create more complicated arrays.[16][17][9]
Mana Method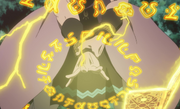 In Mana Method, the Heart Kingdom's unique magic technique, the mage shapes the runes and arrays from natural mana in their environment rather than purely from their own magic power;[18] however, this technique still requires the mage to have a large amount of magic power, as well as good instincts and fast reflexes.[5] As such, mages of the Fifth Stage and below are too weak to form the runes properly, and only mages of the Third Stage or higher are skilled enough to use the technique in combat scenarios.[19]

Trivia
Rune arrays are based on the magic circles found in various ritualistic and occult magic.
References