Wiki Targeted (Entertainment)
Play Sound
Ronne 「ロンネ」 is an elf[1] and one of the ten Apostles of Sephirah.[2] He is reincarnated into the body of a human.[3]
Appearance
Ronne has shaggy, light-colored hair that covers his eyes. He wears a light-colored robe with a dark-colored belt.
While possessing a human, tattoos appear on Ronne's cheeks and his ears become pointed.[3]
Gallery
Personality
Ronne mutters to himself, speaking too softly for others to understand.[3]
Biography
Ronne and some of the other elves enjoy a meal the day before Licht and Tetia's marriage.[1] After the ceremony, the villagers are massacred by humans.[4][5]
Five centuries later, Patolli reincarnates the elves,[6] and Ronne possesses a human. Once all of the Apostles of Sephirah assemble atop of the floating dungeon, they summon the gate to the Shadow Palace,[7] and Ronne flies in with the others. Once inside, Ronne encounters Baval, and Zagred leaves Baval's body and takes over Ronne's.[8]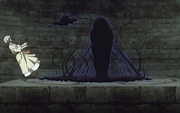 Once Zagred has stolen the final magic stone and used it to summon his body from the underworld, he leaves Ronne's body, who collapses unconscious off the pedestal.[9]
When Zagred floods the Shadow Palace with magic, Nozel Silva carries Ronne, Rhya, and Mimosa Vermillion down to find the other Magic Knights and elves. Along the way, Licht draws on Ronne's and Rhya's magic to help power a spell to destroy Zagred.[10] However, the devil survives and floods the Palace with more magic, so Licht and Lemiel Silvamillion Clover send out protective auras to the elves.[11]
After Zagred is defeated, the magic does not disappear, and Lemiel's magic and the elves' protective light dissipate. Valtos saves the elves and Magic Knights with his Spatial Magic, bringing them to the topmost chamber.[12] The elves and humans return to Clover Castle. Licht and William Vangeance combine their magic to connect the elves to a giant tree through which Asta sends Anti Magic, negating the Reincarnation Magic and exorcising the elf spirits.[13]
Battle Prowess
Magic
Abilities
Equipment
Trivia
References