Doctor Strange in The Multiverse o Madness - The Loop
Play Sound
Morgen Faust 「モルゲン・ファウスト Morugen Fausuto」[1] was a former nobleman of House Faust, the younger twin brother of Nacht Faust,[2] and a member of the Grey Deer squad of the Magic Knights.[3]
Appearance
Morgen was a man with fair skin, a soft facial structure, and long black hair that was pulled up into a high ponytail.
Morgen wore the Grey Deer squad robe over a light-colored jacket and dark-colored belts.[3]
Gallery
Personality
Morgen had a jovial personality and behaved properly, as opposed to his twin's selfish attitude and delinquent behavior.[4][2] A very kind, selfless individual who became a Magic Knight to save others. His influence helped mellow out a young delinquent Yami and convince him to become a captain, and his death and Tragic Dream caused Nacht to become a more moral person devoted to destroying evil and a Magic Knight himself.
Biography
Morgen and his twin, Nacht, were born to House Faust. After turning 15 years old, Morgen received a grimoire and joined the Grey Deer squad of the Magic Knights because he wanted to help save people.[5] Morgen befriended Yami Sukehiro, a fellow Grey Deer and coincidentally Nacht's friend as well.[6]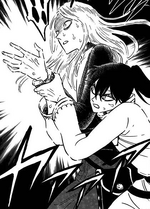 Years later, when Morgen was 19 years old, he learned of his family's practice of Forbidden Magic. Rather than report it to the Magic Knights, he snuck into the secret chamber and tried to dissuade his brother from summoning Lucifugus. Nacht refused to listen and summoned the devil, who attacked and killed the rest of the family. Morgen jumped into the magic circle and shattered the bracelet that was linked to the devil, canceling the ritual and sending the devil back to the underworld. As he died in Nacht's arm, Morgen told of his dream for them to protect the Clover Kingdom together as Magic Knights.[7]

Battle Prowess
Magic
Abilities
Equipment
Trivia
References