Marco Scarlet 「マルコ・スカーレット Maruko Sukāretto」[1] is the younger brother of Rebecca Scarlet. He lives in Nairn with his sister and other siblings.[2]
Appearance
Marco is a young boy with short, messy red hair. He has blue eyes.
Personality
Biography
After Rebecca Scarlet returns from her blind date, Marco and Luca play with Asta.[3] Rebecca invites Asta and Gauche Adlai to stay with them for the night. After Asta compliments Rebecca's cooking, Marco asks if she is going to marry Asta, which flusters her.[4]
Later that night, snow covers Nairn and enchants many of the town's children, including Marco, and they wander out of the town.[5][6] When they reach the caves, Neige happily greets them.[7] After scanning the children's mana, Baro notices how little Marco has and throws him out of the cave and into the snow.[8]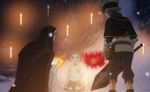 While flying to the caves, Asta notices Marco laying outside. However, Gauche refuses to stop and instead dumps the other Black Bull. Sister Theresa flies down and notes Marco's injuries and his unresponsiveness. Asta taps Marco's head with the Demon-Slayer Sword, freeing the boy, and Theresa heals him. When Asta explains that they will need to leave him alone, Marco complains but Asta lends the boy his squad robe, which he claims has the world's courage within it. Marco then agrees.[9]
Later as Gauche flees with his sister, they encounter Marco at the entrance. Marco promises to protect Marie, and Gauche threatens him before returning into the cave.[10] Finral Roulacase transports the injured and the children back to Nairn, where Marco watches as healers take care of Theresa.[11] After she passes her remaining mana to Gauche, Marco and the other children offer theirs.[12]
After the battle, Marco returns the squad robe to Asta and thanks him for it. Rebecca then kisses Asta, to Marco's surprise.[13]
Months later, Marco and Marie are playing when she suddenly begins to glow.[14]
Battle Prowess
Abilities
Events
References
Community content is available under
CC-BY-SA
unless otherwise noted.