Doctor Strange in The Multiverse o Madness - The Loop
Play Sound
Makusa North 「マクサ・ノース Makusa Nōsu」 is a specially-appointed researcher from the Clover Kingdom's Magic Tool Research Lab.[1]
Appearance
Makusa is a man with shaggy, blond hair. He wears a lilac shirt, green pants that end below his knees, a white lab coat, and a wide, brown belt.
Personality
Makusa enjoys researching magic tools and is overjoyed when presented with new data to analyze, even if he does not understand it right away.[1]
Biography
Makusa and Marx Francois are tasked with escorting Sally to the Black Bulls base so that she can experiment on them in order to help develop a mana-increasing magic tool for fighting the Spade Kingdom. Once at the base, Sally traps her escorts in Gel Magic and chases after the Black Bulls on her own. After everyone recovers, Makusa takes Sally's data back to the Royal Capital.[1]
Six months later, Makusa and the others selected for the Spade Kingdom invasion gather at the Magic Knights Headquarters. Makusa vouches for Sally when Nozel Silva expresses suspicion of the robes that she designed.[2] While one group enters the castle to fight the Dark Triad, Makusa and another group meet up with the Resistance in the castle town.[3]
After the first gate opens, hordes of devils emerge from the castle, so Makusa creates a hidden space where Valtos can safely evacuate the citizens.[4] When some devils break through the barrier, reinforcements from the Heart Kingdom arrive and stop the devils.[5]

Battle Prowess
Magic
Abilities
Equipment
Trivia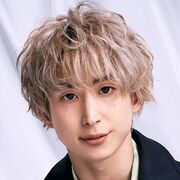 References