For the jewels used by the Diamond Kingdom, see Mage stones.
Magic stones 「魔石 Maseki」 are eleven magic jewels that can amplify magic power and can serve as multipliers for magic spells.[1]
Overview
The magic stones are jewels that come in different shapes and sizes and have different patterns on them. The stones are capable of amplifying the magic power of the one who wields them[1] but they require a high level of magic to use them safely,[2] so the Elf Tribe are the only ones that can use them to their fullest.[1] The stones are connected to the underworld,[3] and humans who use them risk incurring the curse, Weg, and losing their humanity.[4]
Licht used them to transform himself into a giant demon.[5] Afterward, Secre Swallowtail used them to seal away Zagred and to turn Lemiel Silvamillion Clover into a statue.[6]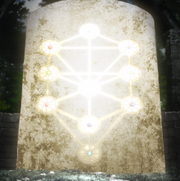 The Eye of the Midnight Sun has been collecting these stones and placing them into a sephirot.[7][8][9] Julius Novachrono entrusts the Black Bull squad with recovering the stones.[10]
Once the sephirot is complete, Patolli resurrects the elves[11] and intends to place the final stone in a pedestal within the Shadow Palace.[12] However, a devil takes the final stone and summons his own body from the underworld.[13]
Finral Roulacase
takes the stones in the sephirot and places them in the statue of Lemiel, who comes back to life.
[14]
List of Known Stones
References
Community content is available under
CC-BY-SA
unless otherwise noted.