'Black Clover' Profile: Julius Novachrono
Play Sound
"
People want just one thing from the Magic Emperor... Achievements that mark you as the strongest. Produce results. Devote yourselves to building a reputation... That's everything. No one who's unable to do that could ever stand at the top...!

"

— To Asta and Yuno in Royal Capital Gathering
Julius Novachrono 「ユリウス・ノヴァクロノ Yuriusu Novakurono」 is the 28th Magic Emperor of the Clover Kingdom's Magic Knights.[4][5] He is also a former captain of the Grey Deer squad.[6][7]
Appearance
Julius was a tall, middle-aged man with short messy blond hair and purple eyes. One of his notable features is a blue six-pointed star on the left side of his forehead; this symbol disappears when he dies.[8]
Julius's attire consists of a shirt and pants of similar color and designs. The white shirt has a high collar with black fur at the end, and intricate gold and purple-colored designs on its circumference. The shirt also has long sleeves with light purple cuffs, which have similar black fur and designs. A pair of gold ring-shaped ornaments are also decorating the upper and lower parts of each sleeve. Julius's brown pants are complimented by a pair of high boots of similar color, which have black fur at the collars as well.
On top of everything, Julius wears a long red robe that covers his entire body. The part of his robe which covers his torso is decorated with white fur. On top of the fur, Julius wears a gold necklace and a couple of medals. One of those medals, a gold medal with a green cross, is positioned on the left side of his chest while the other, a shield with gold and red colors, is positioned on his right side. Additionally, a pair of robes are protruding from the fur on his right back. Furthermore, the robe only has a single sleeve for his right arm.
During his time as a member and later a captain of the Grey Deer squad, Julius wears its squad robe over a longer robe.[9][10]
After reviving himself with his stored time, Julius's body is physically regressed to that of his 13-year-old self. He is much shorter and his hair is longer and shaggier.[11] He wears smaller versions of his previous attire to complement his shorter frame.[12] Six months later, his hair is still shaggy. He wears a dark-colored jacket with a high collar and ornamentation along the center seam, a pair of light-colored shorts, and a collared cape that reaches his knees and ties at his neck with a plain cord.[13][14]
Gallery
Personality
Julius is known to have an obsession with magic, as he loves to explore the kingdom in search of magic that he has never seen before. Usually, his childish personality emerges when he encounters a new type of magic and gets excited to see it in action.[15][16][17] Julius also goes so far as to disguising himself, so he can conduct his search without being recognized by the citizens.[5]
Due to his childish nature, Julius also has a penchant of leaving his duties as the Magic Emperor, or intentionally leaving while high-ranking Knights are in the same room as low-ranking Knights, even though he is aware that they would eventually clash.[18][19]
Despite that, Julius is also a very wise man with wide knowledge and experience on magic and social dynamics. This can be seen when he recognizes the artifact that Yuno found inside a dungeon, and when he sheds some light to him and Asta regarding the weight of being a Magic Emperor.[20] In addition, Julius does not see people based on their social standings, as he still treats Asta and Yuno in the same way he treats the other Knights regardless of their rankings.[21]
At the core, Julius is a loving and very driven man, partly inspired by Zara Ideale, the first commoner ever to become a Magic Knight, and one who put a great deal of effort into defending the citizens of Clover Kingdom. It was after Zara's death that Julius began to focus his energy into becoming Magic Emperor. Julius's dying thoughts was how he was grateful to have seen so many different magics and so many different people. Along with the fact that he fought Patolli, the leader of the Eye of the Midnight Sun, without the intent to kill, and used his years stored up magic to defend the people of the capital city, shows the depths of his love for his people and his country.
Biography
Julius was born in the Noble Realm of the Clover Kingdom.[22] After turning 15 years old, Julius joins the Grey Deer squad of the Magic Knights[23] and works his way up to becoming captain.
While wandering around in disguise, Julius witnesses Yami Sukehiro demonstrate Dark Magic. Impressed, Julius invites him to join the Magic Knights.[24] During that year's Magic Knights Entrance Exam, Julius recruits both Morgen Faust and Yami.[25] Because Yami is a foreigner, Julius also has to teach Yami the Clover Kingdom's language.[26]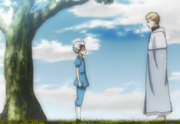 Julius is impressed by a young William Vangeance's World Tree Magic and invites him to join the Magic Knights. When William hesitates because of his scar, Julius offers him a helmet.[10]
During a conflict between the Clover Kingdom and the Diamond Kingdom, Julius encounters Lotus Whomalt on the battlefield where he witnesses the latter's battle prowess.[27]
Years later, Julius returns to the Noble Realm along with several Knights from defending against a foreign invasion. They are welcomed with joy and cheers from the Noble Realm's citizens.[28]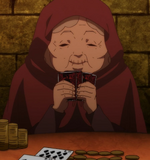 Six months later, Julius decides to disguise himself as an old lady and wander around Kikka's black market. He then gambles against Sekke Bronzazza, whom he manages to outmatch. Not long after, a thief snatches his belongings and runs away. Fortunately, Sekke and several other Knights from the Black Bull squad are able to apprehend the culprit and returns Julius's belongings. After the Black Bulls leave, Julius removes his disguise and has taken an interest in Asta and his Anti Magic. Subsequently, Julius receives a call from Marx Francois, who requests his immediate presence, but the Emperor ignores his subordinate. When he is informed of an emerging problem, Julius assures him that he found the perfect candidate to solve it.[29]
Later on, Julius assigns Asta on a mission to explore a newly emerged dungeon by sending a formal letter to Yami.[30] Julius then receives a report from one of his subordinates that the Diamond Kingdom sent Lotus Whomalt and his group to explore the dungeon. While all of his subordinates start to panic, Julius remains calm as he is confident in his Knights' abilities.[31]
After Julius learned that the dungeon exploring mission was a success, he immediately requests a meeting with the Knights who managed to complete it. During the meeting, Julius swiftly examines one of the artifacts that Yuno, a Golden Dawn squad member, managed to retrieve. He is excited when he asks Yuno to activate it, but quickly shows his disappointment when the boy reveals his inability to control it. Subsequently, Julius decides to refrain from explaining Sylph while encouraging Yuno to grow along with it.[32]
He then proceeds on examining Asta's artifact, but Julius fails to comprehend the writing in the grimoire. When he holds onto the sword, which was summoned from the writings, Julius can feel his mana is being absorbed by the sword. He then returns it back to Asta and explains to him that the latter is the only one capable of wielding the sword because he lacks any magical power.[33]
Subsequently, Asta and Yuno ask him about the method to achieve Magic Emperor rank, which prompts Julius to explain the simple truth to them that anyone with great reputation could become the Magic Emperor. Afterwards, he invites the young Knights to attend a War Merits Conferment Ceremony alongside him as he takes them to the ceremonial hall.[34]
After he promotes several Knights at the ceremony, Julius invites all of the participants to a banquet that he had prepared, before he disappears a moment later.[35] When the Royal Capital is being invaded, Julius remains absent as he asked Marx to cover for him.[36]
During his absence from the Royal Capital, Julius travels to the Eye of the Midnight Sun's hideout where he lies in wait until the mages who were attacking the city, return. Once the Eye of the Midnight Sun members enter the hideout, Julius reveals himself and swiftly kills two of the mages, who were trying to attack him. Subsequently, he kills another mage before offering an act of mercy for a mage, who is willing to surrender, as he plans to kill the rest of them. When none of the mages accepts his offer, Julius engages in a fight against the remaining two mages before he activates a restraining magic spell on all of them. Afterwards, Julius notices Asta, who is finally freed from Sally's spell.[37]
Julius then lends his hand to the young Knight, who refuses and stands up by himself. Afterwards, the Magic Emperor shifts his attention to the sephirot within the hideout. At that moment, a bright light manifests and the sephirot disappears along with the mages he had restrained. Fortunately, Julius manages to secure one of them as he believes that the leader of the Eye of the Midnight Sun was the one behind the Light Magic. As Julius enables the communication magic, Marx quickly reaches out and informs him of the situation within the Royal Capital.[38]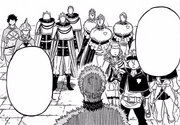 Julius immediately returns to the city while taking Asta and the rogue mage with him. After one of the captains explains to him of Fuegoleon Vermillion's condition, Julius reassesses his decisions on leaving the capital's protection to the Knights while also determining the threat's significance. Afterwards, he addresses the Knights and gives them a few words of encouragement in regards to their mission as the protectors of the Clover Kingdom.[39]
The Magic Emperor then proceeds on addressing the citizens of the Royal Capital, in regards to the invasion. He also decides to leave vital information from the public, such as his suspicion of a traitor within the Magic Knights.[40] Subsequently, he is present when Marx tries to extract information from Catherine and George, members of the Eye of the Midnight Sun. Unfortunately, their attempt is unfruitful as Julius asks his aide to keep investigating while they wait for Fuegoleon to open his eyes.[41]
After Asta recovers from his battles in the caves outside of Nairn, Julius has the boy brought to the dungeon to remove the wards on Catherine and George, but the Magic Empereor gets distracted when he asks Asta about Eye of the Midnight Sun's leaders' abilities. As Asta touches the captives with the Demon-Slayer Sword, Julius orders Marx to activate his magic.[42]
After hearing who the traitor is, Julius has Marx send the Magic Knight Captains down, and once they are gathered, he asks the captives to repeat their answer,[43] Gueldre Poizot.[44] When the Purple Orca tries to escape, he is stopped by Asta and restrained by Rill Boismortier, and Julius thanks everyone for acting for him since he does not know how to restrict his power.[45] Julius then confronts Gueldre[46] and has Marx display the captain's memories. Julius reminds the captains that the Magic Knights are to protect the citizens, and then orders them to search their own squads for more traitors but not to make the information public. He dismisses the knights and has Marx continue questioning Gueldre.[47]
Julius requests that Yami and Asta meet with him in his office. He explains to Asta about the magic stones and Grand Magic Zones and requests that the Black Bull squad recover the magic stone in the Seabed Temple.[48]
Several days later, Julius meets with the Black Bulls in his office. He congratulates them on their successful mission, having secured the magic stone and brought back three captives.[49] Suddenly Marx contacts the Magic Emperor and informs him that the Diamond Kingdom is attacking Kiten.[50]
After watching the battle, Julius is impressed by Yuno and Sylph's strength and requests that the Black Bulls go and support the Golden Dawns.[51]
For the annual Star Awards Festival, Julius requests all of the squad captains to attend. At the announcement ceremony, Julius takes the stage to report the achievements and to address the crowd, hoping to calm the citizen's fears and to boost their support of the Magic Knights. He then calls the captains to join him onstage, including the two new captains, Mereoleona Vermillion for the Crimson Lions and Kaiser Granvorka for the Purple Orcas. Julius announces that the Golden Dawn squad is the highest rank again and that the rookie, Yuno, contributed the most stars. Julius then announces that the Black Bull squad placed second, much to the shock of everyone. Julius acknowledges that it is surprising given their record low from the previous year. He calls for any member of the squad to take the stage since the captain is absent.[52]
During the ninth match, Julius is amazed by Asta's Black Hurricane[53] and Magna's Extreme Killing Vanishing Magic Ball.[54]
During the tenth match, Julius is excited to watch Finral and Langris' clashing Spatial Magic[55] but becomes serious when Langris creates several spatial distortions.[56] Julius is taken aback by the scale of the explosions from Langris' and Finral's magic clashing.[57]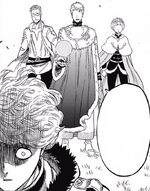 Afterwards when Finral is unconscious and heavily injured, Langris tries to kill him, but the Black Bulls and Julius, Marx, and Owen arrive on the battlefield to stop the vice-captain. Julius comments that he cannot trust those who go easy on their comrades but also those who try to kill their comrades. Langris asks permission to deal with the Black Bulls but attacks before Julius can respond. However, Asta nullifies the attack, and Julius declares that Team B will fight Team G.[58]
To prepare for the impromptu fight, Julius freezes Asta and Langris in time and has Cob gather their teammates. Once they all arrive, Julius explains the rules before releasing Asta and Langris.[59] The Magic Emperor silently watches as the match unfolds.[60][61][62][63]
Julius is impressed with Yuno's growth when he singlehandedly defeats Team M. The Magic Emperor then announces that Team I vs. Team P will be the final match.[64] When Yuno displays his Spirit Dive spell, Julius is once again impressed with his growth and power.[65]
After the tournament ends, Julius approaches Zora and remarks on how much Zora reminds him of Zara. Julius finishes by asking if Zora would wear his Black Bull robe, but the rogue refuses to acknowledge the connection.[66]
Several days later, Julius is watching the sunset from one of the palace's tower. When William approaches him, Julius notes how unusual that is. William removes his mask and thanks to the Magic Emperor for everything he has done. However, he informs Julius that there is another whom he treasures and that he cannot choose between them as their paths diverge. William then transforms into Patolli, who thanks William and introduces himself as Licht. Julius expresses his regret over this revelation.[67] Julius questions how Patolli removed William's scar, to which Patolli replies that human curses do not affect him. After Patolli explains his hatred for humans, Julius realizes that William's kindness allowed this to happen, but resolves to win.[68]
As their fight begins, Patolli launches multiple light blades, which Julius catches with Chrono Stasis Grigora, so Patolli closes the distance and attacks with Bright Judgment Whip, but Julius manages to predict and dodge every swing. Patolli then appears behind Julius and slashes him across the chest. The two land back on the tower wall and Julius explains how his Time Magic works while reversing the wound. Patolli renews his attack and tries to attack from behind again, but this time Julius appears behind him and blocks his attack.[69]
As their battle continues, Julius catches one of Patolli's blades and sends it back, accelerating its speed and cutting Patolli's face. With Patolli distracted, Julius tries to restrain him, but Patolli dodges. When Patolli marvels at the Magic Emperor's strength and wonders about his grimoire, Julius points up to where it is hovering over the city. He explains that he constantly questioned who he was and where he was going until he became the Magic Emperor. He then tries one more time to restrain Patolli, but the elf moves up into the air and releases the sealed mana, the sheer amount of which leaves Julius stunned.[70][71]
As Patolli rains Arrows of Judgment down on the kingdom, Julius reflects on his past dissatisfaction with the nobles and his history with Zara. He, however, resolves to keep protecting the country because he has noticed a small change in the public's acceptance of peasants. He creates a giant clock that stops and dissolves Patolli's spell, saving all of the citizens. Unfortunately, this leaves him defenseless and Patolli stabs him.[72] Julius collapses and bleeds out while Yami confronts Patolli.[73]
After Patolli escapes, Julius compliments Yami's new spell and remarks on how well Yami and the next generation of Magic Knights have improved.[74] He thinks to himself about having wanted to create a future without discrimination and hate.[75] As he dies, Julius reflects on his own failings and regrets and leaves the defense of the kingdom to Yami. His final thought is of all the magic he got to see, while his star tattoo and grimoire disintegrate.[76]
Later that night, Yami protects Julius's corpse from the attacks of Owen and Marx, who are possessed by elf spirits.[77] After knocking those two unconscious,[78] Charla, who has possessed Charlotte Roselei, forces Yami to run through the city while he carries and protects the corpse.[79] When Sol Marron arrives to save Charlotte, Yami passes to her the sphere containing the corpse,[80] which she buries in another part of the city.[81]
The next morning, Julius has come back to life due to additional time he had stored in his tattoo, and his body has reverted to adolescence. Julius thanks Yami and William when they come looking for him.[82] Yami grabs Julius by the collar and demands his resolution back. William tries to apologize, but Julius cuts him off, stating that betraying the kingdom is a serious crime and that he intends to make William work in the recovery effort. When Yami asks if Julius is being too lenient, Julius admits that some of the responsibility falls on himself. William then repledges his grimoire to Julius and the kingdom.[83]
Later that morning, Julius and Yami hold a meeting with Mimosa Vermillion, Asta, Noelle Silva, and Secre Swallowtail. He lists off three problems facing the kingdom. First is his loss of power, but during his explanation about Swallowtail, he gets distracted and asks to see Secre's magic. Yami forces him to return to the topic, and Julius warns that the kingdom faces destruction and that Asta faces death, which shocks the others.[84] Julius explains that Asta's Anti Magic comes from a devil, as signified by the black horns that appear in his black form. Secre, who has permanent horns, demonstrates the change in her Sealing Magic, which fascinates Julius. Asta wants to know more about his impending death, so Julius explains that the Diamond and Spade Kingdoms are threats while the Magic Knights are weakened by and blamed for the elves' attack. Asta brings up that a devil was at fault, and Julius foresees the Magic Parliament using Asta and his devil power on trial.[85]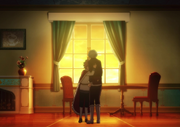 A few days later, during Asta and Secre's Trial, Julius sends Nozel and Fuegoleon to interrupt the trial and present a mission for the Black Bulls: to monitor Asta and Secre while they are exiled, and to further investigate devils. This sways the Parliament into postponing judgment, allowing Asta and Secre to go free.[86] Afterward, Damnatio Kira visits Julius, who explains that he trusts the Black Bulls to return with evidence of the devils or with power that will benefit the country, which will excuse their interruption of the trial and exonerate Asta and Secre. Damnatio warns that should they fail, he will have to judge Asta and Julius. As Damnatio leaves, Marx rushes into the room and is shocked to see Julius's young form. Julius hugs Marx as he cries, and is shocked himself when Marx refuses to forgive him so easily and informs him about the mounting pile of paperwork.[87]
When Mimosa contacts Marx from the Heart Kingdom, Julius shoves his way into view and delightedly asks about Princess Lolopechka's magic. The Magic Emperor and the Princess discuss the arrangement and agree to an alliance between their countries. Julius wants to go study there himself, but Marx refuses to allow that.[88]
Six months later, after the Golden Dawn and Black Bull's bases are attacked and their captains are abducted, the remaining captains gather for a meeting and are briefed on the Dark Triad's plot. Julius quietly watches as the captains begin arguing among themselves until they are all interrupted by the sudden arrival of Nacht Faust and Asta.[89] After Nacht stops four of the captains from attacking, Julius vouches for Nacht's identity as the Black Bull's vice-captain and a spy in the Spade Kingdom but is surprised to learn that he is a devil host. The captains listen as Nacht explains the Tree of Qliphoth's ritual and structure. Afterward, Nacht expresses his desire to build a team around Asta and his Anti Magic in order to rescue Yami and William and to destroy the Tree of Qliphoth.[90]
After the meeting, Julius contacts Gadjah to inform him about the Clover Kingdom's plan to invade the Spade Kingdom. Gadjah pledges the Heart Kingdom's aid in the operation and also reports that the elves are helping build up the strength of the Kingdom and the Magic Knights there.[91]
Three days later, when one of the Spade Kingdom's demons attacks the Clover Kingdom, Julius—with help from Damnatio—temporarily ages himself ten years. He blocks one of the demon's attacks but, much to his surprise and confusion, runs out of time as he is trying to destroy the demon's arm. His transformation also comes undone, revealing his true appearance to the kingdom. The demon begins charging an attack, and Asta arrives, flying past Julius and Damnatio.[92] Julius watches as Asta Unites, neutralizes the demon's blast, and then combats the demon. During the fight, Julius notes that Asta's Anti Magic is the demon's weakness. After Asta slices apart the demon, Julius is delighted to see such a display of peculiar magic.[93]
Shortly before the second gate to the underworld opens, Julius's feeling of unease grows, causing him to fall to his knees, and he can sense Lucifero about to emerge, even though he is still in the Clover Kingdom.[94]
Back in his office, Julius receives the report that the raid on the Spade Kingdom is over. Although relieved that the battle is over, he still has an uneasy feeling about certain events. Damnatio visits Julius and points out discrepancies with Megicula, Astaroth, and Time Magic. Julius comes to the same worrisome conclusion and, in a panic, asks for Damnatio to stop him. However, it is too late and Julius transforms into Lucius Zogratis, who incapacitates Damnatio.[95]

Battle Prowess
Magic
Time Magic: Julius uses this magic attribute to manipulate time.[96] He can accelerate, decelerate, stop, or even reverse the flow of time.[97][98] He is also able to "heal" injuries by reversing the time on his and other people's wounds.[99] Due to the irregular nature of Time Magic, Julius has the potential to defeat a devil; however, following his loss in power, his Magic Stage ranking is unclear.[100]
Restraining Magic: Julius uses this form of magic to restrain his opponents in time, trapping them in a time loop.[101]
Transformation Magic: Julius uses this form of magic to take the form of another human being. He usually uses it to walk among the commoners without being recognized.[102]
Abilities
Immense Magic Power: As the Magic Emperor and the strongest Magic Knight of the Clover Kingdom, Julius possesses an immense amount of magic power. The true nature of his magic is "stealing time" from those he targets. The time he has stolen is stored away as reserves and he can use that power anytime he desires.[107] His vast levels of magic power allows him to perform a spell that covers the entirety of the Clover Kingdom.[108] Before his death, Julius had thirteen years worth of time saved up.[109]
Mana Zone: Julius can control all the mana in an area around him to increase his spell's power and range.[110] By combining it with his Time Magic, he can age the flow of mana around him and foresee from where attacks are coming. However, even if the enemy's next step is foreseen, physical limitations can limit proper reaction time.[111]
Stats
Guidebook
Card
Equipment
Fights
Events
Notable Quotes
"People want just one thing from the Magic Emperor... Achievements that mark you as the strongest. Produce results. Devote yourselves to building a reputation... That's everything. No one who's unable to do that could ever stand at the top...!" 「魔法帝に 求められるものは ただ一つ... 最強と言わしめる 実績だ 実績を出せ ひたすらに 実績を積むこと... それがすべてだ それが出来ない者は 項点に立つことなど 出来はしない...! "Mahōtei ni motome rareru mono wa tada hitotsu... Saikyō to iwa shimeru jissekida jisseki o dase hitasura ni jisseki o tsumu koto... Sore ga subeteda sore ga dekinai mono wa kō-ten ni tatsu koto nado deki wa shinai...!"」[114]
"People look to the Magic Knights for one thing... the peace of the Kingdom. In order to preserve that, we'll keep fighting with everything we have." 「魔法騎士団に 求められる事は一つ... 王国の平和だ その為にわ我々は すべてをかけて 戦いつづけよう "Mahō Kishi-dan ni motome rareru koto wa hitotsu... Ōkoku no heiwada so no tame ni wa wareware wa subete o kakete tatakai tsudzukeyou"」[115]
Trivia
Julius's favorite thing is to disguise himself and search for new magic.[2]
Julius ranked #18 in the first popularity poll, #5 in the second, #13 in the third, #17 in the fourth, and #28 in the fifth.

In the VIZ popularity polls, Julius ranked #7 in the second, #4 in the fourth, and #11 in the fifth.

Julius's grimoire design is the background for Volume 15's cover.

Although his grimoire does not have a cover, the stat card for Volume 16 indicates that it is a three-leaf clover.

Assorted Questions Brigade Rankings:

Julius and the Witch Queen are tied for first place out of the characters who are the best at handling liquor.[116]

Julius's family name is composed of nova (Latin for "new") and chrono (Greek for "time").
References