Jamo 「ジャーモ Jāmo」 is the head chef assigned to the kitchens of the Magic Knights Headquarters.[1]
Appearance
Jamo is a man with brown hair. He wears a white toque, white double-breasted jacket, white pants, an apron and an orange neckerchief.
Personality
Jamo is passionate about his culinary profession, refusing to leave customers unsatisfied, even when his life is in danger.[2]
Biography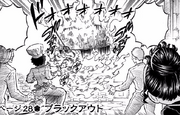 Jamo prepares the food for a banquet held after a War Merits Conferment Ceremony. Unfortunately, before he can finish the main dish, the Royal Capital is attacked by the Eye of the Midnight Sun. The other chefs plead with Jamo to evacuate but he refuses and continues cooking. Having followed the smell, Charmy Pappitson arrives in the kitchen and requests that he finish it for her. Jamo is inspired by her passion and returns to his work.[3]
Jamo serves Charmy the completed dish and cheers her on as she eats. When Catherine crashes through a wall, the chefs panic but Charmy defeats the witch with a single Sleeping Sheep Strike, which Jamo attributes to his food.[4]
Battle Prowess
Magic
Fire Magic: Jamo uses this magic attribute to generate and manipulate fire.[2]
Trivia
Jamo is the best chef in the series.[5]
In the anime, Jamo's method of sprinkling salt is a reference to Nusret Gökçe, the Turkish chef known as Salt Bae.
References