A grimoire 「魔導書 gurimowāru」 is a book that allows its user to cast specific spells that are far in advance of their own natural magical abilities. It is one of the primary sources of power for the Magic Knights and other mages.
Description
Grimoires are magical items that greatly enhance the user's ability to use magic. They also serve as a written record for all of a user's spells. Most of a grimoire's pages are empty at first; as a grimoire owner grows and develops as a person, the grimoire grows and develops with them, and new magic spells are inscribed into the book to fill the blank pages.[1][2][3]
When in use, a grimoire levitates either in front of or beside its owner and follows the mage wherever they go. When the grimoire owner activates a spell, the pages in the grimoire turn on their own until turning to the page containing the spell that the mage intends to use.
Because a grimoire is connected to its owner, a mage cannot use another person's grimoire,[4][5] and a grimoire will disintegrate as its owner dies.[6][7][8]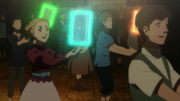 Before being claimed by their rightful owners, grimoires are stored in Grimoire Towers, special libraries scattered around the kingdoms. Once a person has turned 15 years old, they can attend the annual Grimoire Acceptance Ceremony in March in order to receive their grimoire.[9][10][5] A mage who misses the ceremony after their fifteenth birthday can travel to any Grimoire Tower and receive their grimoire individually at any time.[11][12]
Grimoires of mages from the Clover, Diamond, Heart, and Spade Kingdoms have clover, diamond, heart, and spade insignias, respectively, on their front covers.[13][14][15][16]
In the case of the Clover Kingdom, a grimoire with a three-leaf clover is common, while a grimoire with a four-leaf clover is rare. It is said that a four-leaf clover grimoire brings good luck and is only received by a truly exceptional mage.
Scripts
Normally, spells are written in scripts legible to the mage. Spells may be written in different languages if they draw magic from alternative sources, like devils and spirits.[17] Additionally, Ultimate Magic that draws power from natural mana results in pages filled with runes.[18][19][20]
Five-Leaf Clover Grimoires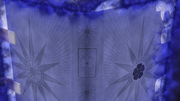 When the owner of a four-leaf clover grimoire falls into absolute despair, the book is corrupted by its owner's deep despair and hatred, becoming what is known as a Grimoire of Despair 「絶望の魔導書 Zetsubō no Gurimowāru」.[21] During this process, the cover of the grimoire turns a darker color and the clover turns black and develops a fifth leaf.[22]
These five-leaf clover grimoires can be taken and possessed by devils, who use the books to manifest their true powers.[23]
Unlike ordinary grimoires, a five-leaf clover grimoire does not disintegrate upon its owner's death.[24] Instead, it goes dormant until a new compatible user is born and comes of age.

Known Grimoires
Trivia
The grimoire term and concept come from real-world instructional textbooks on magic.
Most of the grimoires received by the people of the Clover Kingdom have a three-leaf clover on the covers. The leaves of the clover each symbolize certain virtues: Faith, Hope, and Love. The rare fourth leaf represents Good Luck. The fifth leaf is said to represent the devil.[25]
Julius Novachrono's grimoire is the only known grimoire to have no cover.
References