Wiki Targeted (Entertainment)
Play Sound
Galleo 「ガレオ Gareo」 is the commander of the Diamond Kingdom assassination squad.[1][2]
Appearance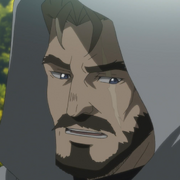 Galleo is a tall man with graying brown hair that his combed back, as well as a brown beard. He has a scar running from his forehead to his cheek that passes over his left eye.
Galleo's clothing is the typical uniform of the Diamond Kingdom soldiers, except he has a red belt.
Personality
Galleo is a professional and does not take betrayal well.
Biography
After Fanzell Kruger flees the Diamond Kingdom and frees his students, Galleo tracks down the escaped students. He captures Mariella but spares her life. In return, she helps track down Fanzell and Dominante Code.
Months later, Galleo leads several squads to the Black Bull base where Fanzell is hiding. Before the attack commences, he sends Mariella off to capture Domina as a hostage. During the attack, Gauche attacks Galleo while the other Black Bulls fight off the Diamond soldiers. Disguised as Fanzell, Grey sneaks up and grabs hold of Galleo. The commander reveals the plan to hold Domina hostage, and Grey reveals that her teammates were sent to protect Domina.
Galleo escapes from the Black Bulls and teleports to Kikka's black market. He overhears Mariella's plan to betray the Diamond Kingdom and decides to execute her, so he traps her in his Unopening Red Room. Fanzell and Asta get in the way and are pulled in too. Inside his spell, Galleo creates Crevice Men to attack the three. Fanzell and Asta defend Mariella and defeat Galleo.[1]
Battle Prowess
Magic
Equipment
References