Foyal Migusteau 「フォヤル・ミグストー Foyaru Migusutō」[1] is a Dark Disciple of the Spade Kingdom's Dark Triad.[2]
Appearance
Foyal is a thin man with long, shaggy light-colored hair that hangs down around his eyes. He has a wide nose and angular jaw.
Foyal wears a dark-colored, long sleeve tunic under a lighter-colored vest with a raised collar. He also wears a pair of lighter-colored pants that tuck into dark-colored boots.
Personality
Foyal is a sadistic man who takes great enjoyment in mocking and torturing his opponents.[3][4]
Biography
After the Dark Triad takes over the Spade Kingdom, Foyal accepts power from them and becomes a Dark Disciple.[5]
Zenon Zogratis, Foyal, and Gaderois Godroc travel to the Clover Kingdom and attack the Golden Dawn base in search of an Arcane Stage mage.[6] The Magic Knights unleash multiple attacks at once, but the two Dark Disciples tank the hits.[7]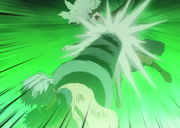 Foyal traps several Golden Dawns in the courtyard with his illusive Mist Magic. Klaus Lunettes and two others hide in a circle of shields, but Foyal destroys their shelter with water bullets. Foyal is surprised that Klaus continues to fight. Yuno arrives and blows away Foyal's cover. Although Foyal catches Yuno's with Sealing Spectral Hands, Letoile Becquerel catches the Disciple with Another Atlas and strips away his mists. Klaus then hits Foyal with Blazing Spiral Lance, knocking him unconscious.[8]
Battle Prowess
Magic
Mist Magic: Foyal uses this magic attribute to generate and manipulate mist.[9] He creates illusions of himself to disorient his opponents and can also condense his mists into water bullets that are strong enough to shatter Steel Magic.[10]
Abilities
Equipment
Trivia
Foyal's favorite things are gloomy places and lightly seasoned fish dishes.[1]
References
Community content is available under
CC-BY-SA
unless otherwise noted.