The Elf Tribe 「エルフ族 Erufu-zoku」[1] are an ancient race of people who lived in the Forsaken Realm of Clover Kingdom.[2]
Overview
Elves have humanoid appearances but with pointed ears and white hair. The elves all had immense magic power[2] and were worshiped as gods for it. The humans began to fear and desire the power, so a group of human royals used a magic tool to steal the elves' magic power[3] and then slaughtered them.[4][5][6] Children of the Clover Kingdom are taught that the elves were demons who wanted to control the world and all mana and that Licht turned himself into a demon god but was stopped by the first Magic Emperor.[7]
After the massacre, the devil Zagred used Reincarnation Magic to suspend the souls of all the elves, keeping them from moving on. As the first one reincarnated, Patolli began the Eye of the Midnight Sun and completed the resurrection of the other elves in human bodies.[8][9][10] Because humans and the Clover Kingdom were behind the massacre and the murder of Licht, the elves despise all humans and seek the destruction of the kingdom.[11][12][13][14]
Elves are the only people capable of fully using magic stones.[2] They also have a number of Forbidden Magic spells that require large amounts of mana, including the creation of a third eye.[15]
After the massacre of the original elves that lived within the Clover Kingdom, it was revealed that Tetia had survived the fatal wound inflicted on her during the massacre and that one of her twin children with Licht had also survived. After the death of Licht, Lemiel being sealed into a statue, and Secre being transformed into an anti-bird, Tetia and her surviving child had gone on and lived out their lives, with their descendants eventually migrating and making a new elf village in Elysia.[16]
Dark Elves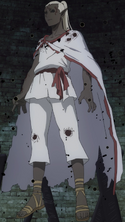 An elf who is consumed by deep despair and other negative feelings risks transforming into a dark elf 「ダークエルフ dāku erufu」.[17] Their skin darkens, their sclera turn black, and their magic becomes more sinister and wild as negative mana flows into them.[18] The elf seemingly loses all self control and consciousness as they simply follow their new destructive hateful impulses.[19][20]
Since Reincarnation Magic requires negative mana, elves who are revived with this magic are more susceptible to being overwhelmed with negative emotions, like hatred and despair, effectively increasing the chances of them becoming dark elves.[21][22][23]
Members
Members

Unnamed

Unnamed

Unnamed

Unnamed

Unnamed

Unnamed

Unnamed

Unnamed

Unnamed

Unnamed

Unnamed

Unnamed

Unnamed

Unnamed

Unnamed

Unnamed

Unnamed

Unnamed

Elysia
References
Community content is available under
CC-BY-SA
unless otherwise noted.