Spider-Man: No Way Home Trailer Dropped - The Loop
Play Sound
Anti Magic: Demon-Slayer Sword: Black Divider 「反魔法『断魔の剣・ブラックディヴァイダー』 Anchi Mahō "Danma no Tsurugi Burakku Divaidā"」 is an Anti Magic spell.
Description
While wielding the Demon-Slayer Sword, the user pushes and condenses the Anti Magic to the edges of the blade.[1][2] Its size and reach can extend to several times its normal size.[3][4] Like other Anti Magic attacks, it is drawn toward magic, making it difficult for mages to dodge.[5][6]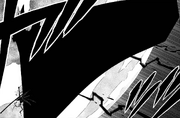 The flat side of the sword could still be used to reflect an attack, and the larger size of the blade allows for wider coverage in a single swing.[7] At its largest, Black Divider is capable of reflecting a massive ball of fire and ice.[8]
Trivia
In Tales of the Rays, Demon-Slayer Sword: Black Divider is an item that can unlock the use of the Demon-Slayer and Demon-Dweller: Blade Flat 「断魔&宿魔・剣脊 Danma & Shukuma Kenseki」 strike arte.
References