Jurassic World: Dominion Dominates Fandom Wikis - The Loop
Play Sound
| | | |
| --- | --- | --- |
| " | "Good faith" "hope" "love" is hidden in the leaf of the clover each. "Good luck" dwells in the fourth leaf. "The devil" lives in the fifth leaf. | " |
The Clover Kingdom 「クローバー王国 Kurōbā Ōkoku」 is a country bordering the Diamond and Heart Kingdoms and near the Spade Kingdom.[1][2] It is the home country of the Magic Emperor and the Magic Knight Squads. It is currently ruled by King Augustus Kira Clover XIII.[3]
Description
Geography
The kingdom is a mountainous region. It is bordered by two other kingdoms: the Diamond Kingdom to the north and the Heart Kingdom to the south. The Spade Kingdom lies to the west across the neutral zone, and a sea lies to the east.[4][5]
The kingdom is divided into three regions: the outermost Forsaken Realm 「恵外界 Keigai-kai」, the Common Realm 「平界 Hei-kai」, and the central Noble Realm 「王貴界 Ōki-kai」. Those in the outermost region are the poorest and weakest and are looked down upon by those from the inner regions.[6] Despite peasants being accepted into the Magic Knights, these prejudices follow them,[7][8] even if they have large amounts of mana.[9]
Government
The Three Great Royal Families 「三大王家 Sandai Ōke」 of the Clover Kingdom are House Kira, House Silva, and House Vermillion.[10][11] The three families live together in Clover Castle.[12]
The Magic Parliament serves as the kingdom's legislature and judiciary. The current chairman is Damnatio Kira.[13]
Armed Forces
The Clover soldiers are called Magic Knights and are responsible for the protection of the kingdom. They are divided into nine squads, which are headed by the strongest Magic Knights who receive the title of Captain.[14][15] Finally, all squads are under the orders of the strongest Magic Knight, the Magic Emperor.[16]
Economy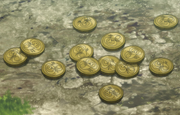 The kingdom's currency is the yul 「ユール yūru」.[17][18][19]

Notable Locations
Forsaken Realm
Common Realm
Noble Realm
Trivia
References