For the thirteenth chapter of the manga, see Chapter 13.
Chapter XIII is the 13th volume of the Black Clover anime.
Summary
One devil may be defeated, but the danger isn't over yet. There are more out there, and the Black Bulls must find them. The Clover Kingdom fears an attack by the Spade Kingdom, and the Magic Knights reach out for help—and answers.
List of Episodes
Extras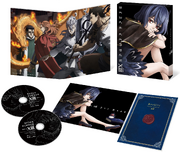 Collectibles: 16-page booklet, 24-page art book, 3-sided disc packaging
Episode Commentary
Petit Clover Special Edition
Credit-less Opening and Ending Songs
Trailers