For the sixth chapter of the manga, see Chapter 6.
Chapter VI is the 6th volume of the Black Clover anime.
Summary
"Not even broken arms can stop Asta! But when his injuries are beyond Healing Magic, this could mean the end of his journey. Except his magic is never giving up! Together, with his friends, they head to the Witches' Forest to find a cure—or more trouble."
List of Episodes
Extras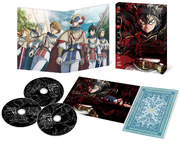 Collectibles: 16-page booklet, 24-page art book, 3-sided disc packaging
Episode Commentary: Episodes 56 and 62
Inside the Episode: Black Clover Highlights Episodes 52-57 and 61
Petit Clover Special Edition
Credit-less Opening and Ending Songs
Trailers
Community content is available under
CC-BY-SA
unless otherwise noted.