For the second chapter of the manga, see Chapter 2.
Chapter II is the 2nd volume of the Black Clover anime.
Summary
"In a world filled with magic, one boy will prove that real power lies in never giving up!

After proving himself on his very first mission, Asta gains recognition from the Magic Emperor and is assigned a new task—to investigate a magical dungeon! Together with Noelle and Luck, he'll scout out the mysterious vault only to find they aren't the only ones sent to explore. Up against Yuno and The Golden Dawn teammates, Asta is even more fired up to do his best and get to the treasure first!

But their race is abruptly interrupted when they face mages from The Diamond Kingdom. Witnessing such unbelievable strength and magic, Asta and his companions may have met their match!"
List of Episodes
Extras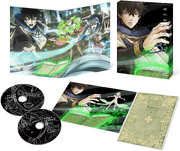 Collectibles: 16-page booklet, 24-page art book, 3-sided disc packaging
Inside the NEW Studio J
Episode Commentary: Episodes 12 and 15
Inside the Episode: Black Clover Highlights Episodes 10-18
Petit Clover Special Edition
Credit-less Opening and Ending Songs
Trailers
Community content is available under
CC-BY-SA
unless otherwise noted.