The encyclopedia of the Black Clover series by Yūki Tabata which started serialization in the Weekly Shōnen Jump magazine since February 16th, 2015. The Wiki's main task is to progressively collect and archive all Black Clover related materials into exclusive pages.

Currently, we are editing over 1,607 articles and 3,567 images in this wiki.

Make sure to visit our pages and deepen your knowledge on the magical story of Black Clover!


September 28
2015

Chapter 31 "The Crimson Lion King"


Latest Volume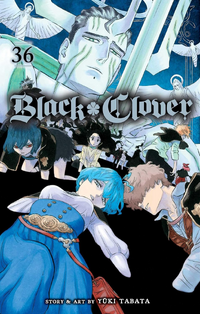 Volume 26 is HERE!!
---
Volume 26 of Black Clover covers the continuing war with the Spade Kingdom.
"As Noelle and others are training in the Heart Kingdom, Dark Triad member Vanica launches an attack! The Clover Magic Knights will need to work as a team if they hope to take down Vanica and her devil, Megicula. Can Noelle protect the Heart Kingdom and take down the devil who killed her mother?!"
The 26th volume was published on August 3, 2021.


Affiliates