The encyclopedia of the Black Clover series by Yūki Tabata which started serialization in the Weekly Shōnen Jump magazine since February 16th, 2015. The Wiki's main task is to progressively collect and archiving all Black Clover related materials into exclusive pages.

Currently, we are editing over 1,048 articles and 2,139 images in this wiki.

Make sure to visit our pages and deepen your knowledge on the magical story of Black Clover!


May 19
2018

Toonami - Episode 23 "The Crimson Lion King"


Latest Volume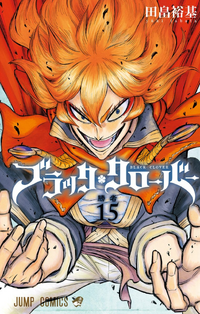 Volume 15 is HERE!!
---
The 15th volume of Black Clover concludes the Royal Knights Selection Exam.
"As the Royal Knights selection test enters its final stage, a surprising team is still in contention! Can Asta or Yuno take the crown? And after the test is over, the real battle begins when the members of the Royal Knights are decided! What will be their first mission…?"
The 15th volume was published on May 7, 2019.


Affiliates