The encyclopedia of the Black Clover series by Yūki Tabata which started serialization in the Weekly Shōnen Jump magazine since February 16th, 2015. The Wiki's main task is to progressively collect and archive all Black Clover related materials into exclusive pages.

Currently, we are editing over 1,634 articles and 3,633 images in this wiki.

Make sure to visit our pages and deepen your knowledge on the magical story of Black Clover!


January 20
2018

2019

2020


Latest Volume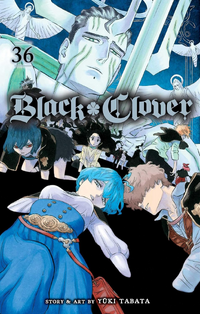 Volume 27 is HERE!!
---
Volume 27 of Black Clover covers Asta and the Magic Knights' preparations for invading the Spade Kingdom.
"Asta will need to get much more powerful if he ever hopes to defeat the demonic leaders of the Spade Kingdom. Things look bleak, but then a mysterious mage named Nacht appears—and he knows a few things about harnessing a devil's power. Does Asta have what it takes to learn how to control his devil power and rescue Captain Yami?"
The 27th volume was published on November 2, 2021.


Affiliates