Jurassic World: Dominion Dominates Fandom Wikis - The Loop
Play Sound
Black Clover 「ブラッククローバー Burakku Kurōbā」 is a Japanese manga series written and illustrated by Yūki Tabata. The series began serialization on February 16, 2015, on Weekly Shōnen Jump's 12th issue. The story focuses on fantasy, adventure and comedy genres while maintaining the "Young Boys" 「少年 Shōnen」 demography.
Synopsis
Asta and Yuno are orphans raised in the outskirts of the Clover Kingdom. In a world where people are born with magic, Asta was born without any. In contrast, Yuno was born a prodigy with above average magic power and the talent to control it. Additionally, in their coming of age ceremony, Yuno receives a rare four-leaf clover grimoire, like the original Magic Emperor. On the other hand, Asta received a tattered grimoire where a Devil lies within, a five-leaf clover grimoire.
The story follows Asta and Yuno as they crawl their way up the ladder of the Clover Kingdom's Order of the Magic Knights, in the midst of scrutiny by the nobles, to become the Magic Emperor. However, the title is only preserved for a single mage. Who will attain the coveted title of the strongest mage in the kingdom, Asta or Yuno?
Manga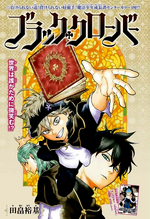 Main article: List of Chapters and Volumes
Prior to the series' serialization, Yūki Tabata had already written a one-shot of the same name. The one-shot was published in 2014, in the 2nd volume of Jump NEXT. The one-shot was then rewritten for serialization. One of the elements that both versions share is the dual protagonists setting of Asta and Yuno.
Upon its serialization, Black Clover started steadily gaining popularity among the Japanese readers. It resulted in the magazine commissioning multiple color pages in quick succession in order to further promote the series.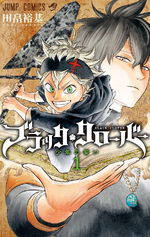 Furthermore, chapters of the Black Clover series are also being collected into a graphic novel 「単行本 tankōbon」 format, which contain between 8-10 chapters. One of the major differences between the magazine version and the graphic novel version is the paper quality where the latter uses a much higher paper quality. The graphic novel version sometimes offers a revision over mistakes that were made on the original publication and improvement over the art in general. Additionally, the graphic novel also included extra chapters or characters profile that were not published in the magazine.
The volumes are published by Shueisha Inc. 「株式会社集英社 Kabushiki Gaisha Shūeisha」 under the Jump Comics 「ジャンプコミックス Janpu Komikkusu」 imprint. As of April 4, 2022, the Black Clover series has published 32 volumes.
The series has also been licensed for an English language release by VIZ Media on the company's digital Weekly Shonen Jump magazine starting from April 6, 2015. The move was done after previewing the first 3 chapters of the series at the same time as the series' debut in Japan as part of the digital magazine's Jump Start campaign. The series was chosen by the English edition's editors out of the four new series that were coming out during that serialization round.
Spin-off Series
Black Clover SD: Asta-kun's Road to Magic Emperor 「ブラッククローバーSD アスタくん魔法帝への道 Burakku Kurōbā SD Asuta-kun Mahōtei e no Michi」 is a gag series that follows Asta's antics on his way to becoming the Magic Emperor. It is illustrated by Setta Kobayashi 「小林拙太 Kobayashi Setta」 and was published in Saikyō Jump 「最強ジャンプ Saikyō Janpu」 from February 2, 2018, to April 1, 2021. The chapters were later collected into three volumes.
Black Clover Side-Story: Quartet Knights 「ブラッククローバー外伝 カルテットナイツ Burakku Kurōbā Gaiden Karutetto Naitsu」 is a retelling of the story from the game. It is illustrated by Yumiya Tashiro 「田代弓也 Tashiro Yumiya」 and was published on the Shonen Jump+ site from October 7, 2018, to April 12, 2020. The chapters were later collected into six volumes.
Anime
Main article: List of Episodes and Movies
An anime adaptation has been licensed to Pierrot, Inc. 「株式会社ぴえろ Kabushiki Gaisha Piero」. It began airing on October 3, 2017, and finished airing on March 30, 2021, after 170 episodes. An English-dubbed version has been licensed to Funimation and began airing on October 29, 2017.
An original animation video was produced by Xebec, Inc. 「株式会社ジーベック Kabushiki Gaisha Jībekku」 and played at 2016 Jump Festa. Copies were bundled with Volume 11.
Plans for a movie were announced on March 29, 2021.[1] The movie is scheduled to release in 2023[2] and directed by Ayataka Tanemura.[3]
Spin-off Series
Squishy! Black Clover 「むぎゅっと! ブラッククローバー Mugyutto! Burakku Kurōbā」 is a series of anime shorts with characters in chibi designs. Produced by Dream Link Entertainment (DLE) and released exclusively on dTV, the series began airing July 1, 2019 and ended August 19, 2019 after eight episodes. Crunchyroll released English subtitles for all eight episodes on December 31, 2019.
Light Novel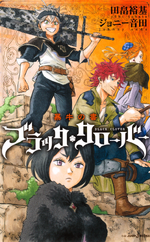 Main article: List of Novels
A series of light novels, written by Johnny Onda 「ジョニー音田 Jonī Onda」, was published by JUMP j-BOOKS 「ジャンプ ツェイ ブックス Janpu Jei Bukkusu」. As of October 4, 2019, three novels have been published.

Video Games
Main article: List of Games
Black Clover: Grimoire Battle was a fighting arcade game published by Bandai Namco in 2017. Black Clover: Quartet Knights was announced at Jump Festa 2017 and released in 2018 for PlayStation 4 and PC. It was developed by Ilinx and published by Bandai Namco. A mobile game called Black Clover: Phantom Knights was released in Japan on November 14, 2018, and in English on January 16, 2020.
On December 19, 2021, a new mobile game tentatively called Black Clover Mobile was announced during the Jump Festa 2022 Black Clover panel with intended release sometime during 2022.[4] Developed by Vic Game Studios and described as "anime-feeling RPG", the game will receive a worldwide release.[5]
Crossover Appearances
Asta is featured as a playable character in the Weekly Shōnen Jump crossover game Jump Force. Several characters have appeared in WSJ's crossover mobile game, Jumputi Heroes 「ジャンプチ ヒーローズ Janpuchi Hīrōzu」.
The mobile game Tales of the Rays held a special crossover event from March 31 to April 19, 2021. During the event, Asta, Yuno, Yami, and Charlotte are recruitable characters. Additionally, costumes modeled after Asta, Yuno, Magna, Luck, Noelle, and Mimosa are available for other characters.
The game Valkyrie Connect 「ヴァルキリーコネクト Varukirī Konekuto」 also held a special crossover event from September 30 to October 21, 2021. During the event, Asta, Yuno, Noelle, Yami, Secre, Fuegoleon, Nozel, and others are featured characters.
References