Black Asta 「ブラックアスタ Burakku Asuta」[1] is an Anti Magic spell.
Description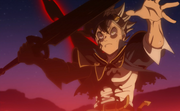 After the Witch Queen uses her blood to remove the limits on Asta's Anti Magic,[2] he learns to channel the energy throughout his body and attains a form where Anti Magic courses through him and covers part of his body, gaining a horn on the right side of his head.[3] To activate the form, Asta must stand still with one of his swords and concentrate on circulating the energy, which leaves him open to attack.[4]
This form is drawn to strong magic and greatly increases his strength and speed while granting him the ability to fly. This form also clears his mind of all doubts and extraneous thoughts, and improves his focus and clarity of mind.[5] Since the form automatically targets strong magic, Asta does not have to consciously react to an attack,[6] but he also has no control over what it targets and can be led away from his opponent.[7] Additionally, the physical exhaustion of using the form limits Asta's usage to only twice each day,[8] although he can push for a third.[9]
This form does not block all magic cast at Asta.[10]
As Asta begins to coat more of himself in Anti Magic, the overflowing energy swirls around him and erodes magic near him.[11][12]
Soon after the intense battle against the elves and the devil, Asta has gained better control over his Black Asta form, being able to use a great portion of its power as his own to where he does not fly around out of control.[13]
If Asta is overcome by malice while in this form, the black Anti Magic covering his body will become more fiery in appearance, cover more of his face, and will transform his right hand and foot into claws. Two additional horns will also form on his head, a smaller black wing will sprout from his left shoulder, and an arrow-tipped tail will appear on him.[14] While in this form, the Anti Magic inside the Anti Magic Weapons is augmented incredibly. The Demon-Slayer Sword can generate an Anti Magic whip that can chase down enemies and break through boulders,[15][16] and the sizes of Black Slash and Black Hurricane are greatly increased.[17][18]
After completing Unite with Liebe, Asta can activate the form without needing to hold a sword. The form's appearance is also changed: four horns and both wings grow and two black marks trace up his neck to his forehead, crossing over his eyes, both of which turn red and have vertically-slit pupils.[19]

References