Jurassic World: Dominion Dominates Fandom Wikis - The Loop
Play Sound
Ben Benfunk 「ベン・ベンファンク Ben Benfanku」[1] is a 4th Class Senior Magic Knight of the Clover Kingdom's Crimson Lion[2] and Royal Knights squads.[3]
Appearance
Ben is a middle-aged man who wears fancy clothing and the Crimson Lion signature robe.
While possessed by an elf spirit, a tattoo appears on Ben's forehead and his ears become pointed.[4]
Personality
Biography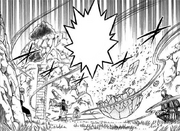 At the Royal Knights Selection Exam, Ben salutes when Julius Novachrono appears,[5] and is placed on Team M with Brand and Eric.[6] In the thirteenth match, Yuno destroys Team M's crystal with ease.[7]
Several days after the exam, Ben and the others selected to be Royal Knights all assemble in the Royal Capital and are placed under the command of Mereoleona Vermillion.[8] After the squad change into their new robes, Mereoleona introduces additional members and reveals the location of the Eye of the Midnight Sun's base.[9]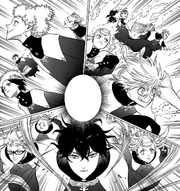 After the squad travels to the Gravito Rock Zone, Mereoleona explains the situation and divides the squad into teams. Luck Voltia infiltrates the dungeon with Ben, Kirsch Vermillion, and Noelle Silva.[10] Ben smashes a mage with a large mace and counters Noelle's condescending remark.[11]
The team comes to a stop when Ben and Luck begin glowing.[12] Possessed by an elf spirit, Ben recognizes the spirit in Luck and hugs him. He then stands by and watches Lufulu attack Noelle and Kirsch.[13] After Noelle and Kirsch escape the dungeon, Ado brings the other elves in the dungeon into the central room. The dungeon is then steered toward the Clover Kingdom and their revived brethren.[14]
Later that night, all the remaining elves are exorcised after William Vangeance and Licht combine their magic to connect the elves to a giant tree through which Asta sends Anti Magic.[15]

Battle Prowess
Magic
Abilities
Equipment
Events
References