Line 102:
Line 102:
 

==Trivia==

 

==Trivia==

 

*Augustus' favorite things are being touted and looking over the country from his castle.{{Ref|name=v12}}

 

*Augustus' favorite things are being touted and looking over the country from his castle.{{Ref|name=v12}}

 
+

*Question Brigade Rankings:

 
+

**Augustus is the second worst drinker.{{Ref|vol=13|Questions Brigade 2}}

 

*Augustus is the most disliked by animals.{{Ref|vol=17|Questions Brigade 1}}

 

*Augustus is the most disliked by animals.{{Ref|vol=17|Questions Brigade 1}}

 
 
---
Revision as of 12:02, 13 October 2019
Augustus Kira Clover XIII 「アウグストゥス・キーラ・クローバー13世 Augusutusu Kīra Kurōbā 13-sei」[1] is the current king of the Clover Kingdom.[2]
Appearance
Augustus is a man who looks middle aged (despite only being 35) who wears royal clothing and a crown.
Personality
Augustus is a very lazy and self-centered man who believes himself to be worthy of praise and respect. This desire for love and admiration makes him incredibly envious towards those who have it, and leaves his state of mind rather fragile, being unable to stand even slight insults from anyone. Asta also pointed out that he has little or no aura and easily noticed his extreme pettiness.
He is constantly jealous of Julius for being so popular with the common folk and despite (or perhaps because of) this, he does not respect the common folk at all and believes people of royal blood to be superior to those that are not. In this regard, Augustus an excellent foil for Julius, who believes that adoration and love of the people is earned through merit, while Augustus considers titles, background, and crown to be defining pieces of one's worth. Since Julius' worldview got more results than his own, Augustus has developed a massive inferiority complex towards Julius, attempting to steal credit from him whenever he can. This conceited attitude even extends toward the Magic Knights, despite many of them being tasked with his protection and that of the kingdom, even going so far as trying to sentence Asta and Yuno to death for a blunt comment or insulting his own subjects for not knowing who he was. He was also personally displeased that the Golden Dawn had won the most amount of stars despite having less members of the royalty than the Silver Eagles. His desire to be loved and recognized by his people is ironic, in the sense that he does not go outside of his palace and interact with his subjects in any way, where as Julius regularly mingles with the commoners, though in disguise most times.
Despite being blessed with the tremendous mana reserves of the royalty, Augustus has shown to be rather ignorant and foolish with regards to magic repeatedly. He faltered while explaining the reasons behind the rules of the Crystal Destruction Battle Tournament when asked, was unimpressed with Magna Swing's abilities despite Kirsch Vermillion pointing out the rarity of being able to use both short and long-range magic and unable to follow much of what was going on, asking for explanations from Julius on more than one occasion. His magic does have the capability to be quite powerful, as Patri has demonstrated, but Augustus' ignorance and arrogance prevent him from understanding how or why he would need to use it effectively. This even extends to being apparently oblivious at danger directed at himself as he expects his status as king and mana reservoir alone to be able to stop dissidence. Case in point, the spell which he used to try and quell what he thought was an uprising was just an overinflated version of himself while also giving it a grand title and expecting for the mere sight to instantly impress when it in fact it was easily done away with and left him vulnerable and open to a direct attack. He was left shocked when the elves easily eliminated his construct with simple magic of their own, and berated him as a fool and a weakling.
Biography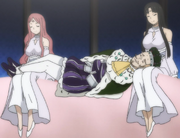 During the Eye of the Midnight Sun's attack on the Royal Capital, Augustus is in bed with two women and demands to know where Julius Novachrono went. Marx Francois assures the king that he and the others will keep his majesty safe in place of the Magic Emperor.[3]
Months later, during the Star Awards Festival, Augustus comes forth to greet his people.[4] When the crowd's response is lackluster, he berates them; however, this sours their opinion more. In an attempt to win them back, he takes credit for Julius' work and plan and announces that the Eye of the Midnight Sun's base has been discovered and that he will select Magic Knights for an elite squad, the Royal Knights.[5] Asta questions why the king will be choosing when the Knights respect the Magic Emperor and Captains, and discusses with Yuno how someone with so much magic power has not done anything remarkable. In his rage, Augustus demands the two boys' heads, but Julius intercedes and explains that the two may one day protect the king. As Julius calls an end to the ceremony and the crowd cheers for the Magic Emperor, Augustus grumbles to himself, still upset.[6]
A week later, several Magic Knights have gathered for the Royal Knights Selection Exam, and Augustus explains the rules of the Crystal Destruction Battle Tournament. He falters when explaining why they are competing in teams, and Julius interrupts, pointing out that the squad will need cooperation, power, and strategy.[7] Augustus is annoyed later when Julius seems to ignore him.[8] For the matches, they sit in chairs on the platform.[9]
During the first match, Augustus is greatly impressed by "Xerx" and his Trap Magic and considers him as the first pick for the Royal Knights.[10][11] During the second match, Augustus is dissatisfied with Magna Swing.[12]
When the first round ends, Augustus is unhappy that Asta and Yuno have not lost yet.[13] Later, during the ninth match, the king is confused about how Asta destroyed Kirsch Vermillion's Magic Cherry Blossom Blizzard.[14]
Several days after the exam, Augustus attends the first gathering of the Royal Knights squad. After Nozel Silva is introduced, Augustus explains that a royal captain is needed for the Royal Knights.[15]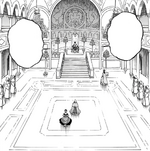 Augustus has Langris Vaude's parents brought before him to answer for their son's actions and decides to end the betrothal between Langris and his grandniece, Finesse Calmreich. A mage barges in and announces that the Royal Capital is being attacked and forces are approaching the castle. Angry at the interruption, the king demands to know what the Magic Knights are doing.[16]
Battle Prowess
Magic
Light Magic: Augustus uses this form of magic to generate and manipulate light.[17] However, Augustus's abilities and understanding of his own magic's strengths are negligible at best as he uses his light magic to create a construct of himself to impress as opposed to using its great speed to his advantage and his demonstration was deemed foolish by Ratri.
Abilities
Equipment
Events
Relationships
Julius Novachrono
Augustus is jealous of Julius Novachrono's popularity with the common people and desires to take the spotlight for himself wherever and whenever possible, once telling the Magic Emperor not to stand so close to him while he was trying to wow the crowd, and even took credit for the Magic Emperor's idea of assembling a group of Knights from various squadrons into a single group to attack the terrorists threatening them.[20] This dislike seems to be one-sided, as Julius doesn't have too much of a problem with putting up with his king and also keeps his ego in check from doing that which would worsen his already-poor image, such as sentencing Asta and Yuno to death for a mere comment and stepping in to stop him from looking like a fool when Augustus was having difficulty in explaining things to the crowd. Regardless, Augustus doesn't usually argue with the Magic Emperor.
Asta and Yuno
Asta and Yuno had apparently never even heard about the king of their country before his appearance, and after Asta made a blunt comment that Yuno agreed to, Augustus took an instant dislike towards them and ordered their execution, only to be dissuaded by Julius. During the Crystal Destruction Battle Tournament, the king was displeased that both had made it to the second round. The fact that both eventually made it into the Royal Knights (and his rather poor grasp of magic in general being unable to follow much of the tournament) implies that the king never had much of an impact on who got to join in the first place or that he was convinced of their inclusion by Julius.
Trivia
Augustus' favorite things are being touted and looking over the country from his castle.[1]
Question Brigade Rankings:

Augustus is the second worst drinker.[21]

Augustus is the most disliked by animals.[22]
References
Community content is available under
CC-BY-SA
unless otherwise noted.