Jurassic World: Dominion Dominates Fandom Wikis - The Loop
Play Sound
Acier Silva 「アシエ・シルヴァ Ashie Shiruva」[2] was a noblewoman of the Clover Kingdom's House Silva, one of its royal families. She was also a former captain of the Silver Eagle squad of the Magic Knights.[3][4] After giving birth to Noelle Silva, Acier died due to Megicula's curse.[1][5]
Appearance
Acier is a middle-aged woman who had youthful features and a slender build. She had silver hair with mauve hues which is held up in a firm ponytail, leaving a straight clump of hair resting against her forehead. Her round eyes were lavender in color, and are framed by long eyelashes. Her youngest daughter, Noelle, is said to bear a striking resemblance to her mother.
Personality
Acier was a strong-willed woman who fiercely fought for the life of a hostage child.[6] This and her interactions with Nozel in the past show that she had a kind heart.
Biography
Acier trained Mereoleona Vermillion and never lost to her despite her strength and Acier's elemental disadvantage.[7]
Acier later married and had four children: Nozel, Nebra, Solid, and Noelle.[1]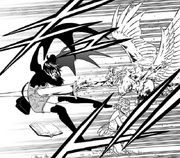 After Noelle's birth, Acier was resting in a secluded residence when Vanica Zogratis sought her out for a fight. During the fight, Vanica threatened Nozel and Noelle, who were hiding in some bushes. Acier's protective instinct strengthened her magic, and she lethally wounded Vanica, so the devil Megicula cursed Acier, while Vanica retreated.[8][6]
The curse severely weakened Acier and left her bedridden. Since Nozel was unable to speak about Megicula, Acier's weakness, and death a year later, was blamed on Noelle's birth.[9][1] After Acier's death, Megicula was able to share half of Vanica's body due to Malevolent Femcantation.[10]
Sixteen years later, Noelle, with Nozel's help, destroyed Megicula's heart, freeing Acier's soul from the devil's hold. Before she passed on, Acier hugged her children and complimented their strength.[11]

Relatives
Battle Prowess
Magic
Abilities
Immense Magic Power: As a royal and former captain of a Magic Knights Squad, Acier possessed an immense amount of magic power.[12] Even Mereoleona Vermillion, the Uncrowned Undefeated Lioness, states that she could never beat Acier even though Acier's steel magic had an elemental disadvantage compared to Mereoleona's fire magic.[7]
Equipment
Relationships
Mereoleona Vermillion
Acier trained Mereoleona Vermillion and never lost to her despite her strength and Acier's elemental disadvantage.[7]
Trivia
Acier's favorite things are training junior mages and her children.[2]
Acier is French for "steel".
Acier has several design similarities to Vivian Blanchard from Tabata's previous work Hungry Joker.
In the anime, Acier's headstone misspells her name as "Asie Silver". It also lists her lifespan as 1584–1619, which would make her around 35 years old when she died.[14] However, the guidebook lists her age as 32 years old when she died, and her Character Profile later lists her age as 33 years old.
References